Catalog
Go Green!
Additional Resources
Volume Discounts May be Available. Call 1-800-860-8891 for Details.
Can Liners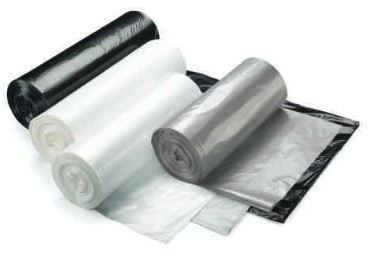 Choosing the Right Size Can Liner:
Ideally you should have about 3 to 4 inches of overhang on the trash receptacle. Anything more or less is wasteful of both time and money.
The gallon capacity of the container can be used as a guide in choosing the right size.
Receptacle Measurements:
Width:
Measure the outer circumference of the container.
Divide the outer circumference by 2.
This number is your bag width.

Length:
Measure the height of the container.
Add 1/2 of the diameter of the container bottom (the diameter for square or rectangular receptacles should be measured across the diagonal rather than straight across).
Add another 3 inches for overhang.
This number is your bag height.

Capacity – you will need to determine the average weight of a full can liner in your environment. Film thickness can be used as a guide in determining overall strength; however, improved manufacturing processes has rendered thickness a far less effective standard. When listed, use the strength of the can liner rather than thickness as a guide.
Quick Reference:
| | | | | | | | | | |
| --- | --- | --- | --- | --- | --- | --- | --- | --- | --- |
| Baumann Item | Manufacturer | Plastic Type | Color | Gauge | Size | Capacity | Case/Pack | | |
| 861-099 | D4823RC | Linear Low | Clear | .35 Mill | 24x23 | 8-10 Gallon | 1000 | | |
| 861-204 | D4832RC | Linear Low | Clear | .35 Mill | 24x32 | 12-16 Gallon | 1000 | | |
| 861-095 | H4832HC | Linear Low | Clear | .70 Mill | 24x32 | 12-16 Gallon | 500 | | |
| 861-604 | H4832HK | Linear Low | Black | .70 Mill | 24x32 | 12-16 Gallon | 500 | | |
| 861-125 | H6036MC | Linear Low | Clear | .50 Mill | 30x36 | 20-30 Gallon | 250 | | |
| 861-405 | H6036MK | Linear Low | Black | .50 Mill | 30x36 | 20-30 Gallon | 250 | | |
| 861-119 | H6639EW | Linear Low | White | .75 Mill | 33x39 | 33 Gallon | 150 | | |
| 861-116 | H6639SC R01 | Linear Low | Clear | 1.1 Mill | 33x39 | 33 Gallon | 10/25 | | |
| 861-462 | H7658TK | Linear Low | Black | .90 Mill | 38x58 | 60 Gallon | 100 | | |
| 861-227 | H7658TW | Linear Low | White | .90 Mill | 38x58 | 60 Gallon | 100 | | |
| 861-217 | H7665SC | Linear Low | Clear | 1.35 Mill | 38x65 | 60 Gallon | 50 | | |
| 861-138 | H8046SC | Linear Low | Clear | 1.1 Mill | 40x46 | 40-45 Gallon | 125 | | |
| 861-122 | H8046SC R01 | Linear Low | Clear | .90 Mill | 40x46 | 40-45 Gallon | 5/20 | | |
| 861-417 | H8046TK | Linear Low | Black | 1.5 Mill | 40x46 | 40-45 Gallon | 100 | | |
| 861-163 | H56 C | Linear Low | Clear | 1.6 Mill | 44x55 | 56 Gallon | 100 | | |
| 861-154 | H1060AK | Linear Low | Black | 1.5 Mill | 55x60 | 65 Gallon | 50 | | |
| 861-444 | X6639AK R01 | Repro | Black | 1.5 Mill | 33x39 | 33 Gallon | 4/25 | | |
| 967-440 | X7658AK R01 | Repro | Black | 1.5 Mill | 38x58 | 60 Gallon | 5/20 | | |
| 861-436 | X7658QK | Repro | Black | 2.0 Mill | 38x58 | 60 Gallon | 100 | | |
| 861-445 | X7658WK | Repro | Black | 1.8 Mill | 38x58 | 60 Gallon | 100 | | |
| 861-435 | X8046AK | Repro | Black | 1.5 Mill | 40x46 | 40-45 Gallon | 100 | | |
| 861-434 | X8646AK | Repro | Black | 1.5 Mill | 43x46 | 56 Gallon | 100 | | |
| 861-449 | X8647AK R01 | Repro | Black | 1.5 Mill | 43x47 | 56 Gallon | 5/20 | | |
| 861-447 | X8647QK R01 | Repro | Black | 2.0 Mill | 43x47 | 56 Gallon | 10/10 | | |
| 861-914 | X9650UK | Repro | Black | 1.6 Mill | 48x50 | 56 Gallon | 100 | | |
| 861-601 | Z4824LN R01 | High Density | Natural | 8 Mic | 24x24 | 8-10 Gallon | 20/50 | | |
| 861-650 | Z4824RN R01 | High Density | Natural | 6 Mic | 24x24 | 8-10 Gallon | 20/50 | | |
| 861-655 | Z4833LN R01 | High Density | Natural | 8 Mic | 24x33 | 12-16 Gallon | 20/50 | | |
| 861-509 | Z4833RN R01 | High Density | Natural | 6 Mic | 24x33 | 12-16 Gallon | 20/50 | | |
| 861-651 | Z6037MN R01 | High Density | Natural | 10 Mic | 30x37 | 20-30 Gallon | 20/25 | | |
| 861-710 | Z6043HX R01 | High Density | Blue | 14 Mic | 30x43 | 23 Gallon | 10/25 | | |
| 861-652 | Z6640MN R03 | High Density | Natural | 11 Mic | 33x40 | 33 Gallon | 20/25 | | |
| 861-659 | Z6640VN R01 | High Density | Natural | 16 Mic | 33x40 | 33 Gallon | 10/25 | | |
| 861-663 | Z7660WN R01 | High Density | Natural | 22 Mic | 38x60 | 60 Gallon | 10/15 | | |
| 861-711 | Z7660XN R01 | High Density | Natural | 17 Mic | 38x60 | 60 Gallon | 10/20 | | |
| 861-656 | Z8648VN R01 | High Density | Natural | 16 Mic | 43x48 | 56 Gallon | 8/25 | | |
Subcategories:
HER-H8647AW H8647AW
Heritage Bag
Can Liner 43" X 47" 1.5 mil White 56 Gallon 100 per cs.
Case Count: 100


Out of Stock

861-463 H8848AW
Heritage Bag
Can Liner. 44" x 48". 1.50 Mil. White Color. 56 Gallon. 50/Case.
Case Count: 50


In Stock

861-341 Z6143HX R01
Heritage Bag
CANLINER 30x43 BLUE 14 MIC 20-30 GALLON CAN LINER 30" x 43"
Case Count: 250


In Stock
861-464 H8046PX
Heritage Bag
CANLINER 40" X 46" 1.3 MIL BLUE 40-45 GALLON
Case Count: 100


Out of Stock

CLO-78812 78812

Glad® OdorShield® Quick Tie Small Trash Bags. 0.5 mil. 4 gal. Fresh Clean Scent. White. 6 boxes.
Case Count: 6 boxes


Out of Stock

963-740 H8647SC R01
Heritage Bag
Heritage Can Liner 43 X 47 .95 MIL Clear 56 Gallon Low-Density
Case Count: 100


Out of Stock
AMZ-C55305CL C55305CL

Plasticplace Contractor Heavy Duty Trash Bags. 3.0 mil. 55-60 gal. 37.5 X 56.6 in. Clear. 50 bags/case.
Case Count: 50 bags


Out of Stock