Catalog
Go Green!
Additional Resources
Volume Discounts May be Available. Call 1-800-860-8891 for Details.
Cleaning Supplies - Floor Pads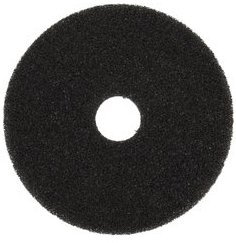 How to Choose the Right Floor Pad
Choosing the right floor pad will depend on your floor maintenance needs as well as the equipment you have available. The table below will help you in choosing the right pad for your application.

Deciding on a brand can be tough. Generally, 3M floor pads are considered the "Gold Standard" of the industry with superior quality. We carry a variety of options to suit your budget, application, and equipment.

If you need assistance in selecting your floor pad, we are here to help! Please reach out to us at sales@baumannpaper.com so we can put you in touch with a product specialist.


Subcategories:
MMM-47995 7100147995
3M Company
3M Scotch-Brite™ Clean & Shine Pads. 28 X 14 in. 5 count.
Case Count: 5 each


Out of Stock

963-991 7100135857
3M Company
3M™ Trizact™ Diamond TZ Abrasive. Blue. 4 each/box, 4 boxes/case. (P/N 86020 BLUE)
Case Count: 16 each


Out of Stock

963-989 7100135858
3M Company
3M™ Trizact™ Diamond TZ Abrasive. Gold. 4 each/box, 4 boxes/case. (P/N 86019 GOLD)
Case Count: 16 each


Out of Stock
963-990 7100135856
3M Company
3M™ Trizact™ Diamond TZ Abrasive. Red. 4 each/box, 4 boxes/case. (P/N 86019 RED)
Case Count: 16 each


In Stock

BNA-AX0003498 D75005200
Diversey, Inc.
Bona SuperCourt Athletic Floor Care Microfiber Cleaning Pad. 12 in. Light/Dark Blue. 2/Pack.
Case Count: 1 pack


Out of Stock

BNA-AX0003501 AX0003501
Diversey, Inc.
Bona SuperCourt Athletic Floor Care Microfiber Cleaning Pad. 13 in. Light/Dark Blue. 2/Pack.
Case Count: 2 each


Out of Stock
MMM-09555 7100148017
3M Company
Scotch-Brite™ Clean & Shine Pads 20 x 14 in. 5 count.
Case Count: 5


Out of Stock

MMM-47921 7100147921
3M Company
Scotch-Brite™ Clean & Shine Pads. 12 in. 5/case.
Case Count: 5 each


Out of Stock

MMM-09549 CS13
3M Company
Scotch-Brite™ Clean & Shine Pads. 13 in. 5 count.
Case Count: 5


In Stock
963-874 7100148038
3M Company
Scotch-Brite™ Clean & Shine Pads. 14 in. 5 count.
Case Count: 5 each


Out of Stock

MMM-09544 CS17
3M Company
Scotch-Brite™ Clean & Shine Pads. 17 in. 5 count.
Case Count: 5


Out of Stock

MMM-09541 CS20
3M Company
Scotch-Brite™ Clean & Shine Pads. 20 in. 5 count.
Case Count: 5


In Stock
963-937 DD6209083
Taski Equipment
Twister™ Extreme HT Pads. 14 in. Red. 2 each.
Case Count: 2 each


Out of Stock

963-938 DD7519290
Taski Equipment
Twister™ HT Pads. 14 in. Orange. 2 each.
Case Count: 2 each


Out of Stock

963-939 DD7519295
Taski Equipment
Twister™ HT Pads. 20 in. Orange. 2 each.
Case Count: 2 each


Out of Stock